Christian Pulisic has been awarded the US Soccer's Male Player of the Year for his performance in the last calendar year largely in the Borussia Dortmund shirt. The youngster becomes the youngest footballer to win the award in history.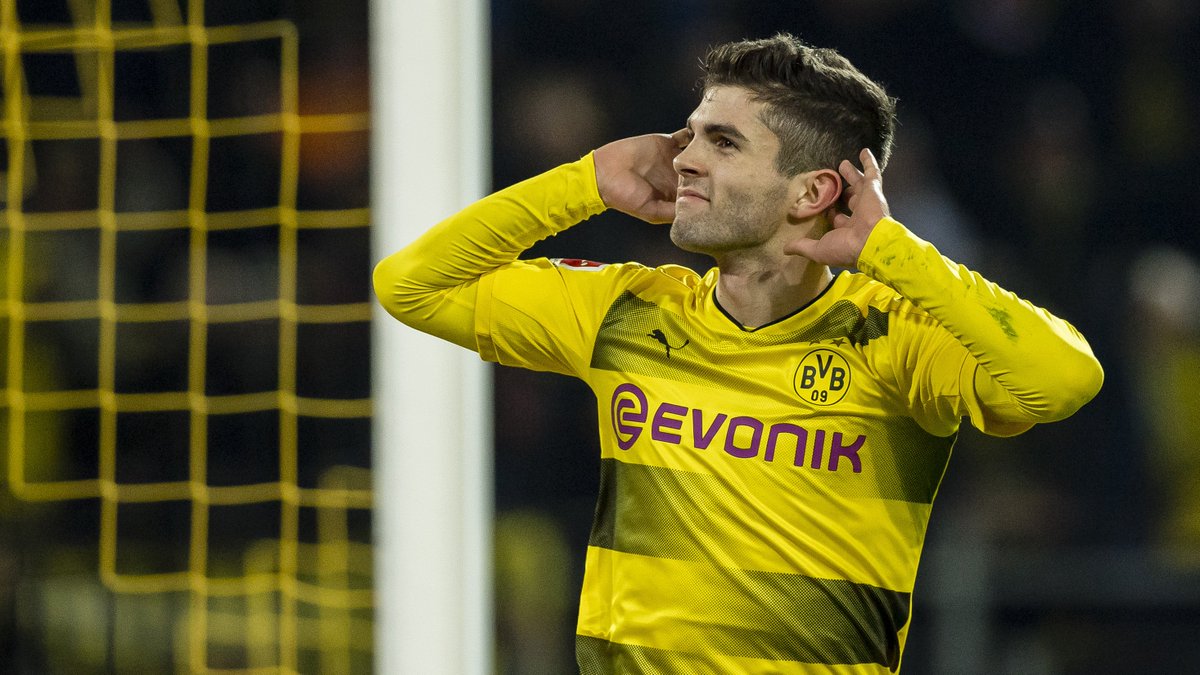 Pulisic won the award by a landslide, getting an impressive 94 percent in the polls. The player with a rising profile scored six goals in nine appearances for the Unites States team. In the games he played, he was involved in 13 of the processes that led to 17 goals scored. He was that shining light in the team despite failing to qualify for the 2018 World Cup in Russia.
(more…)

Tags: Borussia Dortmund, Christian Pulisic

Landon Donovan wants to help make Premier League side Swansea City "America's club." Donovan, 35, was named an adviser by Swansea owners Steve Kaplan and Jason Levien after they acquired the club last summer.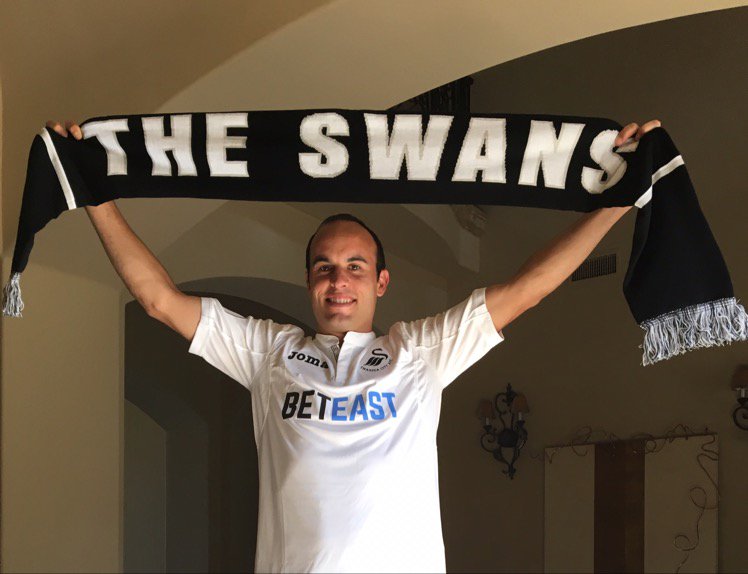 The former U.S. international recently made his first visit to Swansea, and said he wants to help expand the club's profile around the globe.
(more…)

Tags: Euro, Everton, Hull City, Huw Jenkins, Jason Levien, Landon Donovan, Major League Soccer, Paul Clement, Premier League, Steve Kaplan, Swans, Swansea

Premier League side Swansea City received a boost in funds when they sold star man Gylfi Sigurdsson to Everton for £45 million last week.


However, with the summer deadline eight days away, there are fears that they might not be able to get the needed replacement on time.

Manchester United coach Jose Mourinho even waded in, advising the team to spend the funds on more players. Mourinho's men defeated The Swans 4-0 in the first game following Sigurdsson's sale. The team might see more losses this term if they fail to reinforce.

"I hope that the £45m is to spend, he [Coach Paul Clement] did good work last season. He has a point after two matches, one of them against one of the top six or seven teams so it is not a drama, so keep going," the Portuguese said.

Swansea tried to stop the Red Devils after the 1-0 scoreline but three quick goals drastically changed the end result. While their defense was struggling to keep out the attack of United, their forwards were very unproductive. They recorded just one shot on target like the blunt attack that played a goalless draw against The Saints. (more…)

Football legend David Beckham and his ownership group would be elated that they can proceed with plans for a new MLS team after the land required to build a stadium was acquired.


The Miami-Dade Commission voted on the proposal by the group to buy three acres of county land needed to build a football stadium.

The commissioners voted nine to four in favour of the plan, meaning the last major hurdle for Beckham and his group was over. The land, situated at the corner of Northwest Sixth Street and Sixth Avenue, is the last piece required for the former Manchester United and Real Madrid star to move on with plans for a 25,000 seat capacity stadium.

Miami Beckham United (MBU) said they reached another major milestone by acquiring the land to build the privately funded stadium. They asked that the MLS help them move forward with the dream of a soccer club that Miami has been waiting for. (more…)

Tags: Donovan, Donovan's, Galaxy, Goal, Landon

The United States of America have promised to partner their South American neighbours Mexico and their Northern counterparts Canada to submit a three-nation bid for the 2026 World Cup.


The US Soccer chief Sunil Gulati, the Mexican Football Federation president Decio de Maria and the Canadian Soccer Association president Victor Montaglianihave made the pledge to submit an official bid to host the world's biggest football tournament.

The bid would likely favour joint heads going by the stance of current FIFA president Gianni Infantino – it is one of his promises as he took office, aside the expansion of the event. Two nations combined to host the 2002 World Cup but this would be first time three countries would be combining resources.

The United States remain the 'main' host as they have 60 games allotted to them while the two partners would stage ten games apiece as FIFA extend the number of participants from 32 to 48.

"When our nations come together as one, as we will for 2026, there is no question the United States, Mexico and Canada will deliver an experience that will celebrate the game, serve players, supporters and partners alike," Gulati said at a press conference as they made the pledge. (more…)

Tags: Donovan, Donovan's, Everton, Galaxy, Landon

Former US national team player Landon Donovan has stated that he will make a decision about his future in the days to come.


Despite having retired from the Major League Soccer in 2014, the player came back from retirement at the end of last season to help his former team LA Galaxy for the closing stage of the season as well as the playoffs.

His good performance has given rise to speculations that the 35-years old player might be the subject of interest from other MLS team.

He admitted that there were interests from different teams, but he has yet to take a decision about his future. He said that teams in the MLS will be starting their pre-season training in around two weeks and that he will have to make a decision now if he is going to pursue his career in the United States. (more…)

Tags: Donovan, Donovan's, fan's, footballers, Landon, Match, Soccer

LA Galaxy fans have been left surprised by the recent announcement made by manager Bruce Arena that the club was in discussions with former striker Landon Donovan about the potential return to football.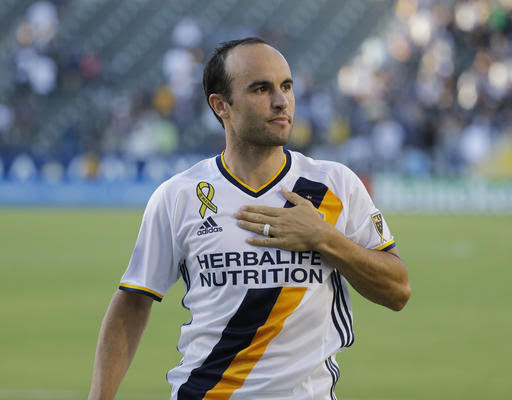 Donovan surprised the football world by announcing an early retirement after admitting that he fell out of love with the game. Regarded as one of the greatest North American footballers in the history of the sport, Donovan has represented major things like Everton and Bayern Munich in his extraordinary career. He is one of the record appearance makers, while it is clearly in front when it comes to the number of goals and assists.

Towards the end of his career, he was concentrating more on his time with LA Galaxy. The sudden retirement is thought to have been created as a result of the rift with United States national team coach Jurgen Klinsmann. They are thought to have patched up the differences in recent months.

Even though Klinsmann does not have any influence on the LA Galaxy team, Donovan announced a surprise retirement. LA Galaxy are looking highly likely to lose Steven Gerrard for the upcoming 2017 season. The former Liverpool midfielder is widely expected to announce his retirement and returned to England to be part of the Liverpool coaching setup.

"Not ready to make any decision. When you lose it stings a little, and I think the entire country has had its mind elsewhere for the past couple of days. That's sort of been the focus, understandably, and we'll see what happens.

I haven't spoken to anybody yet, but I'm sure those conversations will be happening. I enjoyed it a lot, and nobody wants to end that way. That's tough, but that's part of sports, and I came back with a little bit of a different perspective, where you can appreciate and enjoy the process more," said Donovan.

Landon Donovan announces his LA Galaxy return two years after he had retired from football as the former Everton striker is willing to help his hometown club in their bid for a sixth championship.


A little injury crisis has struck the former Galaxy player in recent weeks, and he has taken the decision after discussions with Coach Bruce Arena, to make himself available for selection.

He discussed the decision in a lengthy Facebook post: "I am very happy to announce that I have decided to rejoin my hometown team, the LA Galaxy for the remainder of the MLS season. While this decision may come as a shock to many, I want to explain how and why it was made.

"Two weeks ago, I was working as an analyst on the LA Galaxy vs. Vancouver Whitecaps match and during that game, the Galaxy suffered injuries to three players: Jelle Van Damme, Steven Gerrard and GyasiZardes. Over the next few days, Nigel De Jong was transferred to Galatasaray and news broke that Gyasi would be out for the rest of the season.
(more…)

Tags: Donovan, Donovan's, goals, Landon, players.

Former United States international Landon Donovan joined Swansea City this summer in an advisory role to contribute his wealth of experiences especially with his Premier League understanding playing for Everton.


The 34-year old is set to step up to the season which promises to be very exciting yet with special challenges for Swansea City.

Donovan retired from professional football, ending his time with Major League Soccer outfit LA Galaxy in 2014. He joined Steve Kaplan and Jason Levien in advisory role as the new owners consulted with him before taking over the Premier League club in June.

"The new owners met with me a few months back and said this is likely going to happen and admitted that they didn't know a lot about football. [They said] 'We know that you know the game and you're passionate about it, you played at Everton, spent time in world football and sort of understand it a little better, would you be willing to help us, advise us and consult with us on certain things?' I said yeah, that would be great and that's something I am certainly open to," Donovan told the NBC Sports about his new role.
(more…)

Tags: American, Donovan, footballers, Galaxy, Landon

Landon Donovan might be out of the active games, but he is still leading new teams and introducing fresh spirit in US soccer in different ways.


For instance, an MLS home grown team has been picked by him and it is said that he would be leading this team against his old adversaries.

This is the third year that he has been part of the coaching team that has been working on MLS as well as the national team of US. The home grown team competed in the 2016 Chipotle MLS home grown game which will be featured on July 27th in San Jose. This will be a day before the all star MLS game is played against the heavyweights like Arsenal FC of the English Premier League. The opponents of the team this year would be the under 20 team from Mexico. They had been winners of the U20 Championship that was held in 2015.

The selections for the upcoming game include players from Seattle Sounders like Jordan Morris and others like Tommy Thompson, who is a skillful international player from the Bay Area. (more…)

Tags: Donovan, Everton, Landon, Like, Soccer, TUMBLR