SWANSEA CAN BE AN AMERICAN CLUB
Landon Donovan wants to help make Premier League side Swansea City "America's club." Donovan, 35, was named an adviser by Swansea owners Steve Kaplan and Jason Levien after they acquired the club last summer.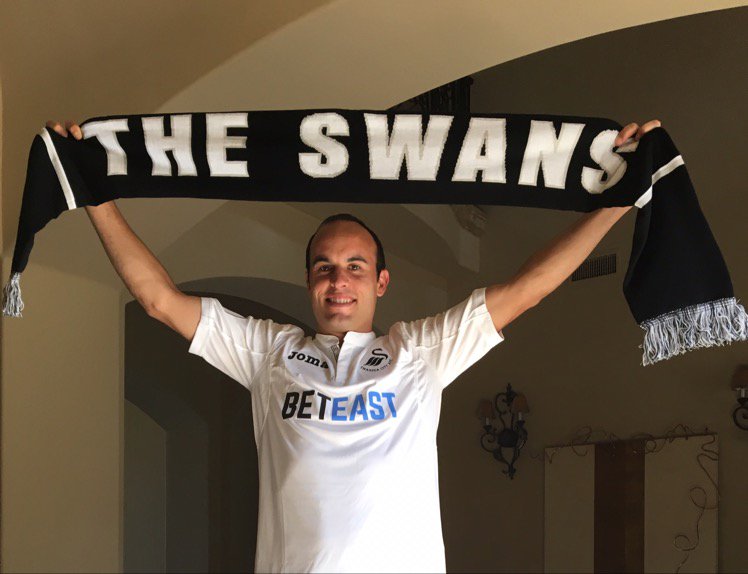 The former U.S. international recently made his first visit to Swansea, and said he wants to help expand the club's profile around the globe.

"I think a lot of clubs are trying to reach out into the American market, or the Chinese market, the Indian market or the South American market. And I think Swansea City are certainly becoming more known in America," Donovan told the club's official website.
He claimed that he believes the Swansea name will only get bigger and bigger in America than anywhere else, citing the reason that the Swans mostly hold their preseasons in America.
But first the Swans need to maintain their Premier League status. The current campaign has been hugely difficult, with Swansea currently two points deep in the relegation zone behind Hull City with only four games played so far.
Donovan indicated that in terms of the day-to-day operations, he has full confidence in chairman Huw Jenkins and manager Paul Clement. But he also feels that the contacts he's made over the course of his career, including two stints with Premier League side Everton, enable him to offer some advice when asked.
Donovan feels that if Swansea does avoid the drop, it can then improve and challenge for Europe, which the club achieved in 2012-13 when it qualified for the Europa League. Donovan is aware of how difficult the current environment is, however.
Donovan is an American former professional soccer player who played as a forward and attacking midfielder. He holds numerous individual records in the Major League Soccer and for the United States national team and is often regarded as the greatest American men's soccer player of all time.